Random Run out at Nine Ball
Short video of a 9 ball practice run where many of the shots did not go as planned.
Nine Ball Pool Practice Runout When Things Go Wrong
I still made all of the balls and got out but not as planned, nearly all of the positional plays were off line which makes the connection to the next shot more difficult. In isolation some pool shots are more difficult than other and require added skills. So when you add all of these challenging shots together it interrupts the normal flow.
Plan Your Route to The Next Shot to Reduce Risk.
In addition to the physical aspects complicated runs like this take up too way much mental energy which needs to be conserved throughout the long competition. It is exciting playing hard shots and overcoming the obstacles one by one but the big swings in mental excitement can be drain on resources.
Good shot makers can still win like this but its not the best long term plan for consistent winning pool.
In order to play pool like a professional try to move the white ball as little as possible. Plan out the routes to the next shot to allow for mistakes and inaccuracies.
Down the Line Shape to Increase Percentages.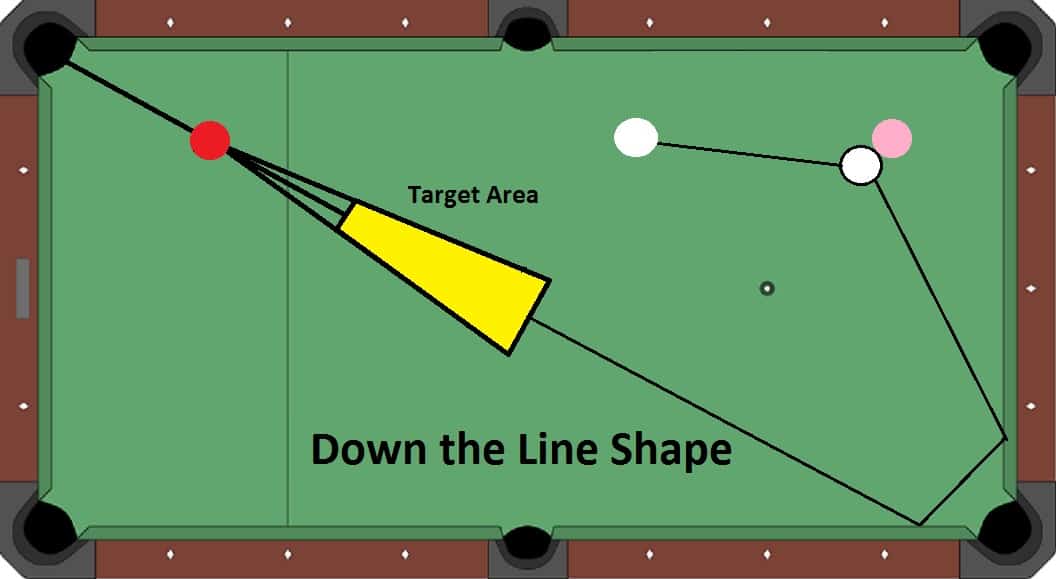 For instance if your position play takes the white ball "down the line" of the shot just like the diagram above even if you over run your shot  by a couple of feet you will still be in line.  This can usually be achieved by using a two rail route like, usually this will send the cue ball down the line .
This route has a fairly large target area and a big margin of error because if you over run or under run the target area you will still be on line. In practice start to look for alternative routes for position in particular try to avoid playing for pin point position unless it cannot be avoided.
Sending the cue ball off two rails might seem to be more risky but you have to weigh the benefits of better shape against a slightly tougher shot.
Across the line Shape Reduces the Target Area For Shape.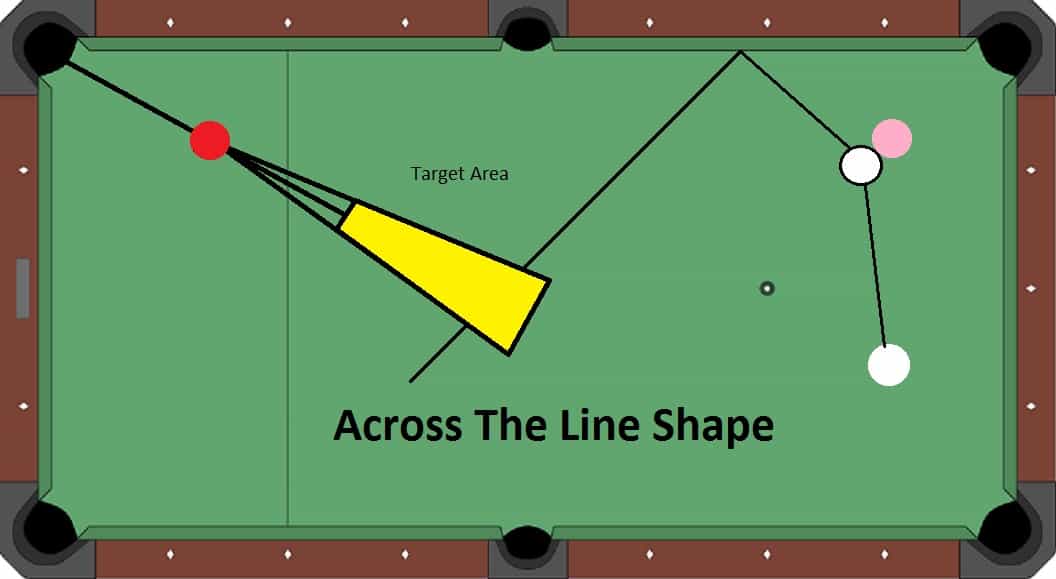 Across the line shape on the other hand send the cue ball across the positional target area which is quite small in comparison. Small margin of error low percentage positional play.
It is harder to judge the position with this route and the ball is crossing the shape target area.
In contrast with down the line shape the ball enters the target zone and where ever it stops you will be in line. You may be closer to the ball than you wanted but you are still in line.
Choose your routes wisely to make the game easier.
That is how the pros make it look so easy and you can too!
[wpu_silo excerpt='true' links='10']